Classic Trials > Recent Trials > Mt Thomas Rd Classic Trial 2014
CustGP.com for Classic Motorbike Trials / Classic Observed Trials, in New Zealand.
Mt Thomas Rd Classic Trial, Canterbury, held on October 5th 2014.
Photographs by Will Gittoes
This is always a great trial venue - and we are normally blessed with good weather, and this year was no exception, this years trial was marked out / designed by Simon Jones and Kerry Miles.
All the sections were up to top standard too, that tested everyone - from traditional steep climbs, tight tricky turns and then section 9 to cool off in the muddy water race, well that's what Trev Wiley did anyway.
Big thanks to Kerry and family for the great venue, also Peter McDonald for always supplying a good BBQ.
Next trial at Omihi on 2nd November.
Cheers Will Gittoes.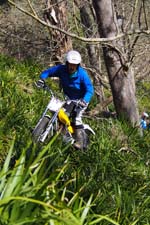 Dave Davies - Yamaha TY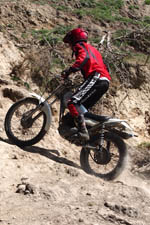 Keith Brown - Yamaha TY