Classic Trials > Trials Scene
CustGP.com for Classic Motorbike Trials in the South & North Islands New Zealand.
Send me anything from the Classic Trials Scene.
Project TY175 Conversion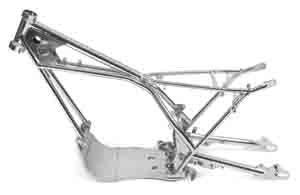 Yamaha Majesty Frame Kit 200-250-320
Brand new Majesty 200/250/320 frames manufactured in lighweight T45 by Mick Whitlock himself. These frames are manufactured true to the original Godden design and as they have access to the original jigs should be regarded as new, high quality originals rather than replicas.
For an enhanced riding position the foot rests are mounted a little further back and slighly lower, otherwise the frames are true to the original design in every detail. Each frame kit includes, swinging arm, swing arm pivot bolt and bearing, tube, alloy side stand, chain tensioner arm, and rear brake pedal. Overall weight is reduced by nearly 3kgs.
£1,650.00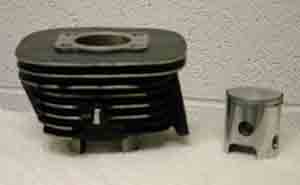 Yamaha BigBore Kit 200cc
Big bore 200cc kit includes barrel and piston kit. Each barrel is bead blasted prior to being bored and the ports receive some mild performance enhancement work.
Exchange price £195.00.
The Majesty Frame Kit and BigBore Kit are available in the UK from....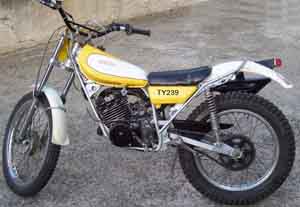 Yamaha TY 239 (206cc) By Christian Rayer
Note the longer swinging arm on TY329.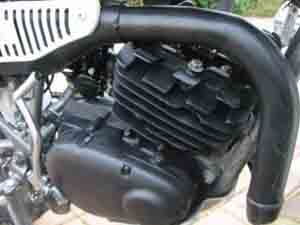 Yamaha TY 239 (206cc)
Christian Rayer several times French champion had worked with Mick Andrews on Yamaha's TY project, but he also did some fine development work of his own.
Christian took the TY 125 / 175 in 1976 and converted it to 206cc machine which had 1hp more than the factory TY250.
He also used a longer swinging arm, rear shocks (30mm longer wheelbase) and a few more mods so the extra power would be converted to traction.
The engine kit included cyl head, cyl with a bore of 72.5mm, piston, rings, read, a 28mm carb and free flow air box, etc.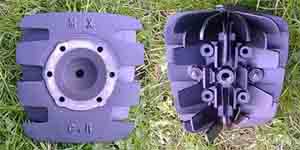 I saw a used kit for sale for 500 euros and no carb!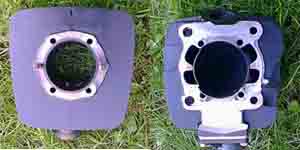 Many thanks to the mijossi.com webSite for use of photos and for more info....
Monsieur Rayer also helped develop the Montesa Cota series of trialsbike's, TY360 to name a few. He now runs sucessful business developing many forms of competion motorcycle engines in France and I wish his website could translate to English, anyway here is the link for it...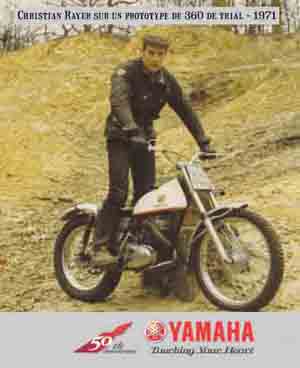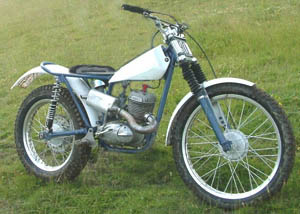 I do love the old Bantams they convert to a real fun
Trialsbike, for more power some guys put in the Villers
32a or 36a but you can get a lot from old 175 motor.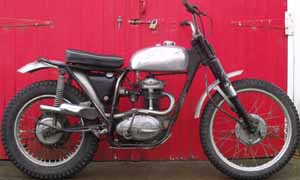 Ok so I'm in rather a dilemma, just bought a BSA C15 trials motorcycle and its in a pretty original condition, what should I do, it does need a bit of work to bring it back to its former glory.
Or to give it the full treatment, cut the frame to change the fork angle then mill down and fit 35mm Ceriani's into the BSA lowers, widened swinging arm, reposition engine and mounts, and the list goes on and on.
As I start to write this, a feeling of keep it pretty much original comes over me, unless someone donates me a Faber frame, then again, maybe one day there will be a true pre 65 class in classic trials?
Now don't start jumping up and down yet, because I'm not against giving an old motorbike the big trials makeover, indeed I plan to do just that with a BSA Bantam, when I can get my hands on a donor bike, so if anyone has a D7, D10 or a D14/4 lurking around and at the right price please contact me.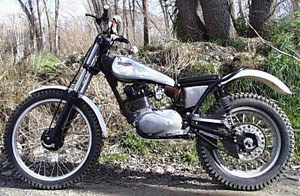 Alan Duthie's Triumph Tigercub Trials Special
Brent Downs. BSA Trials Special
So this is what's special about classic trials it doesn't matter which side of the fence you are about bike modifications, you can do your own thing and enjoy the end result.
Talking about trials makeovers we have a few in Christchurch which are quite outstanding, to name just four in no particular order; Alan Mason - Triumph Trophy, Alan Duthie - Triumph TigerCub, Mel Banks - Triumph TigerCub, Brent Downs - BSA Trials Special, there are photos of both, motorbike and pilot in action in our recent trials sections.
I will get some close up photos, major modifications / specifications of their Trialsbikes soon, so it will be worth it to come back to check now and again, they are first class bikes.
It has always been the way in motorcycle trials right from the beginning by rider and manufacturer to alter, tweak and modify their machines to get the very best, so it's an integral part of the sport.
With the introduction of air cooled mono shock bikes to the classic scene this was natural evolution, we now see bikes from 20 to 60 years and older competing.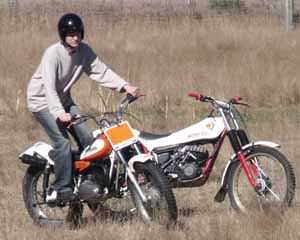 I guess, in this case I will keep it original, as my son Will, now at the ripe old age of 23 is starting to get into motorbikes (to my delight).
Will rode out to Cust classic trial on his road bike, then had ride around on my old TY175 and looks like he has the makings of a tidy trials rider with some practice and coaching, so it would be good to pass the C15 to him one day.
Cheers Old Will.
Peter McDonald Dunedin Trial 1974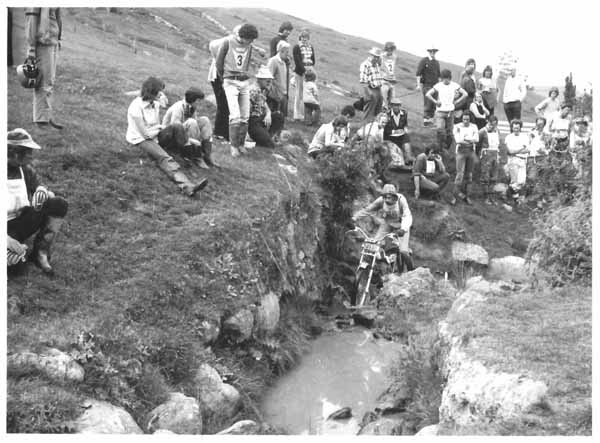 Trials Action from New Zealand 70S
This seventies New Zealand Trials photograph has kindly been sent in by Peter McDonald from Christchurch, he wonders if you can recogise anyone, how many, when and where?.
Peter reeled off around ten names, can you beat that, I will post the names in due course, best of luck!
If you would like a high resolution copy email me.
Peter Hosking can shed some light on the photo because the rider is his brother Ken Hosking. The event was the 1974 Alan Luxton Memorial trial at Rapaki. It was run as a section by section trial so that is why all the other riders are looking on.
Bruce Mitchell won the trial the year before so he was the organiser and wasn't riding. Bruce can be seen in the background. Some of the riders watching are John Thornton, Kerry Miles, Malc McGibbon, Peter Chapple, Bruce Hughey, Tony Millar, Bas Chambers and Robert Rush. The observer is Alex Mitchell (Bruce's dad). The spectators include Marty Rush, George Hughey, Des Thornton and Percy Hosking. Peter thinks the rider on the left with the cigarette was Peter de Geus.
Kerry won the trial and Ken was second.
Many thanks to Peter McDonald and Peter Hosking.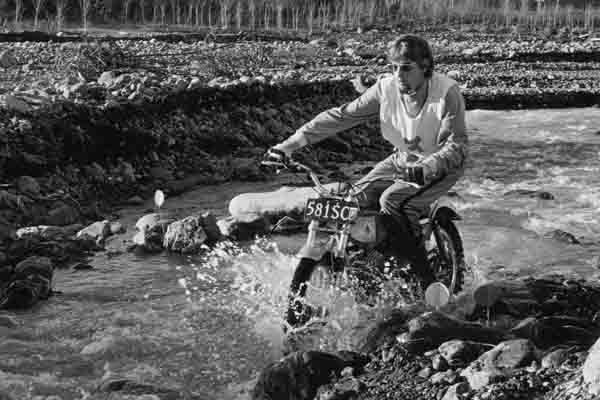 Trials Action from New Zealand 70S - Ken Hosking - Kaikoura 1972 - Bultaco 1971
Ken Hosking in the Kaikoura 3 day trial. 1972 Peter thinks. Kendall MacDonald may be interested in the photo because it's a 1971 Bultaco
Many thanks to Peter Hosking.