News > Great Bikes
For Classic Motorbike Sports, Classic Trials, MotoX, Road & Racing, North & South Islands New Zealand.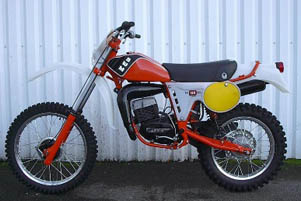 SWM 175 RSGS 1977
SWM Enduro Bike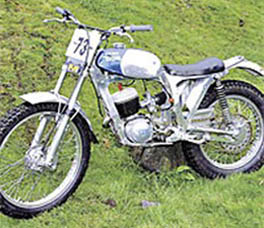 Walwin Bantam
It was was conceived and built by brothers Ross and Mike Winwood and their dad in the mid-late 60s when they were employed in the British motorcycle industry and wanted to present a challenge to the Spanish factories, led by Bultaco, which were taking over trials at the time.
The light, peppy, Bantam D14/4 175cc engine was chosen and slotted into the dural frame, all hand-crafted, literally screwed together, front forks are MPs; a lovely bike, but never put into production.
Keith Quinn's restored Walwin, what a great job he did, and I see that he's had some great results with it...
They also made a few with a BSA 250cc 4T engine.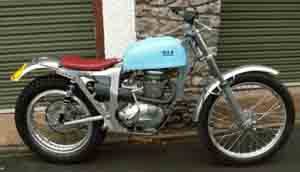 Classic Trials MotoX Road & Racing

Classic Trials Greeves Anglian 246cc
This is the 100% remanufactured 246cc Greeves Anglian The ultimate development of the machine that was ridden to ten consecutive international premier awards and the 1966 - 1967 European Trials Championship.


The Anglian has been manufactured to today's state of the art engineering standards with a view to further enhancing its pedigree and your enjoyment.
Our brand new Deluxe Anglian costs £6500.00, however if this price is outside your budget they can produce a standard machine for around £4200 inc vat.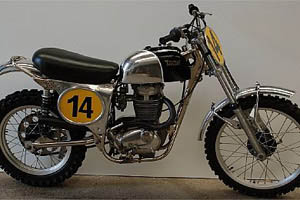 BSA Cheney B44
Eric Cheney manufactured beautifully prepared scramblers utilising his own frames, BSA and Triumph engines.
BSA competition department closed In 1971, Eric Cheney came to an agreement with the ex-BSA race team leader, John Banks, to make a serious attempt to win the motocross blue riband - the 500cc world championship and the BSA Cheney was born.
Cheney were the last British designs to win a Grand Prix world road-racing championship, a British motocross championship, and the manufacturers' award in the International Six Days' Trial.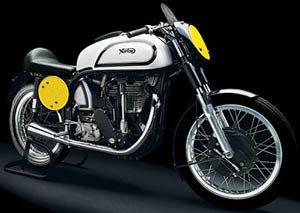 Manx Norton 500cc 1952 restored by Ken McIntosh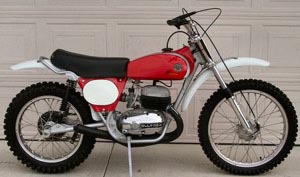 Classic MotoX Bultaco Pursang
This web-site is dedicated to the older (classic) Trials, MotoX, and Road Racing motorbikes up until around the early 1980s and to the group of men that build, restore, ride, love, and of course fall off them.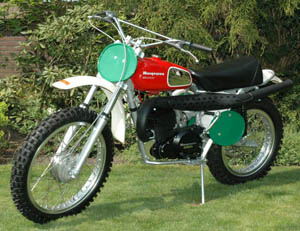 Husqvarna 250 1973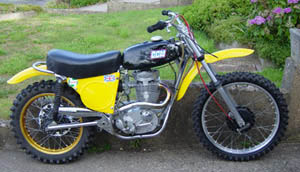 CCM B50 1973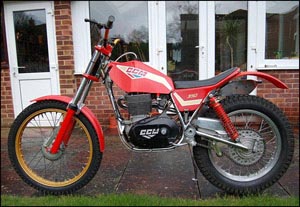 CCM TR350
CCM (Clews Competition Motorcycles)
CCM is a British motorcycle manufacturer founded at the beginning of the '70s. The company from Bolton, resulted from the collapse of the BSA competition department in 1971. The man who founded CCM was Alan Clews, a successful trial and scramblers rider in the 1960s.
When BSA went out of business, Clews bought all the parts that were available and started making bikes in his own garage. He used the 500cc engine from the BSA B50 MX and developed a model which almost won the 500cc motocross world championship in the early 70s. The Trials CCM TR 350 basically B40 BSA in a more modern frame with nice Marzocchi forks and reasonable Grimeca brakes. Over the 80s and the 90s, CCM started to use Rotax engines and they were able to produce over 3,500 bikes a year.
CCM close shop. In 2003, Alan Clews comes back, buys the company again and has been working to rebuild it ever since. In 2005 the company launched two new models, the R35 Supermoto and the FT35 flat tracker are developing a new 450cc motocross bike. Motocross is where it all started in the 70's and be sure that CCM will soon be back on the MX scene.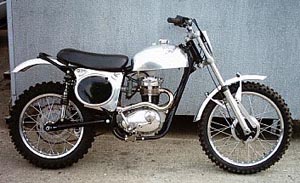 BSA Cheney 250cc VMX
Classic Bultaco TSS 350cc Model-29 1969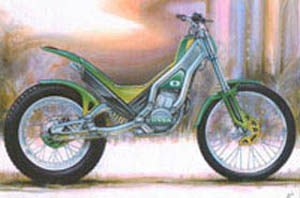 Ossa concept 1996 pity they went bust, I loved my old 72 Ossa Mar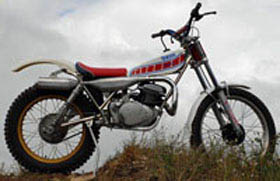 Yamaha Majesty 250cc with the Whitlock frame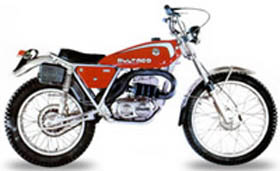 Bultaco Sherpa T 250cc(id 72)1976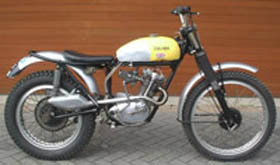 Triumph Tigercub Trials 1965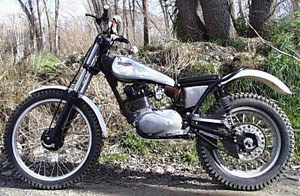 Alan Duthie's Triumph Tigercub Trials Special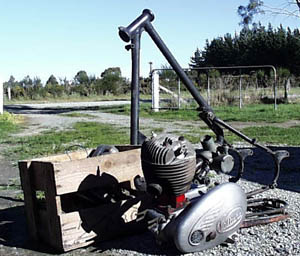 My Francis Barnett 197cc Trials c1955