Road&Race > Kiwi Greats
For Classic Motorbike Sports, Classic Trials, MotoX, Road & Racing, South Island, New Zealand.
Send me any Classic Trials, MotoX, Road Racing Kiwi Greats.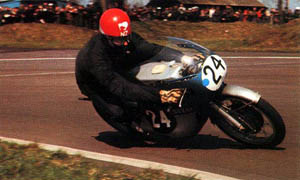 Hugh Anderson
Hugh Anderson, born in New Zealand in 1936, won four World Championships, 19 national titles during his career with a motorcycling career that spanned four decades, he dominated domestic 350cc and 500cc races for several years before going to Britain, riding a Manx Norton in 1961 to sixth place in the Italian Grand Prix and also scored a seventh place in that year's Isle of Man TT 350cc.
He then went onto specialise in small two-stroke machines and in 1963, he won both the world 50cc and 125cc titles and the following year retained his title in the smaller rating, winning the 125cc again in 1965. Also winning the Isle of Man Tourist Trophy twice , he then returned to a new International Classics grand prix series 15 years later and again won a succession of titles.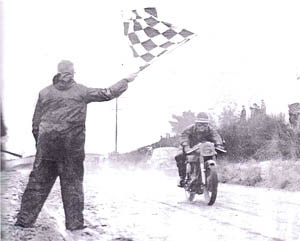 Cust GP 1963 Tommy McCleary
Cust GP 1963 Tommy McCleary wins NZ Grand Prix in the wet, riding a AJS 7R in the last NZGP held at Cust. His farther Tom McCleary (Senior) waves the checkered flag.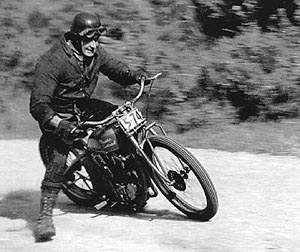 Burt Munro
Burt Munro was born on March 25, 1899 in Edendale, Invercargill, New Zealand. In 1915, at the age of sixteen, he bought his first motorcycle. In 1920, Burt bought his favorite motorcycle, Indian Scout, and history was in the making.
In 1938, Burt set his first speed record in New Zealand on his Indian motorcycle and it became his passion in life. He would continue modifying and racing his Indian for the next thirty years. In 1962, Burt set a world land speed record at the Bonneville Salt Flats by getting his Indian motorcycle up to 178.97 miles per hour. At that point, the engine was bored out to 850 cc.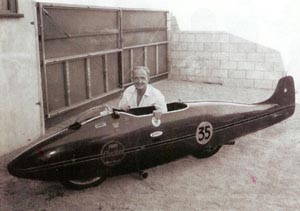 In 1967, Burt again traveled to the Bonneville with his newly modified Indian Motorcycle. With his engine bored out to 950 cc, he was able to get the motorcycle up to 183.58 miles per hour, setting a new speed record for the sub 1000 cc motorcycle class. During a qualifying run, he hit 190.07 mph, which was the fastest official speed on an Indian motorcycle. During the run, he nearly struck a steel pylon and also put the bike down, but walked away with some scratches. Burt died of natural causes on January 6, 1978. His Indian was given to a local enthusiast and can be seen at the occasional motorcycle show.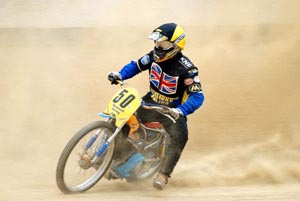 Ivan Mauger
Ivan Mauger born in Christchurch New Zealand in 1939, 9 times world champion winner of over 1000 international events in 26 countries, just outstanding records. He is the only rider to have won the world championship six times and he is the only rider to have won world titles in three successive years. Mauger was a supreme practitioner of his calling in a career that lasted from his first competitive ride in 1955 and last in 1986.
His world championship titles came in 1968, 1969 and 1970, then again in 1972, 1977 and 1979. He appeared in 14 consecutive world finals. Mauger was the dominant figure in British speedway during the 70s and he also won numerous other world titles, including three long track championships.
He also captained and coached New Zealand to a world team title in 1979 and rode injured to secure crucial points toward the end of the meeting. Since retiring from racing, Mauger has been a leading figure in speedway promotion at home and around the world.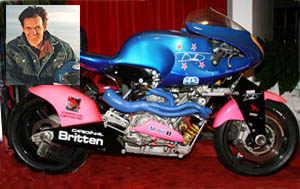 John Britten
John Britten is a Kiwi legend, lived most of his life in Christchurch and from a early age showed his great engineering and design skills. It was to be his distinctive, hand-built, racing motorbike that gave him world wide fame, it broke four world speed records. Tragically, he was taken away from us far too early.