Classic Trials > Trials Bikes CustGP.com for Classic Trials and Motorbikes, North & South Islands New Zealand.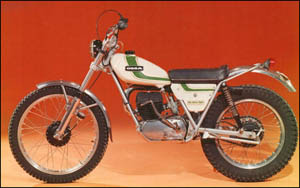 Ossa 250 Mick Andrews Replica (MAR)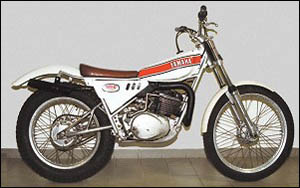 Mick's Works Yamaha Cantilever 1974
Classic TrialsBikes
With Mick Andrews in the news, I thought I should put something together about some of the great bikes that he has been involed with, and when you start thinking back it becomes more evident that he is one of the true greats in the sport.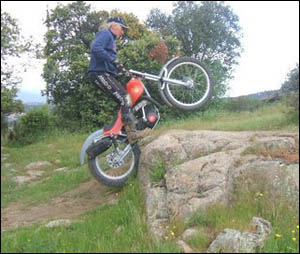 Still a fine Trials Rider
I have start somewhere so it will be with Ossa, the Plonker (not the best of names eh) this was their first big effort into Trials, developed by Mick Andrews with production beginning in 1967. Though not as popular as the Bultaco and Montesa models of the time, certainly it was a worthy Trials bike with smooth power and sharp handling, which has become a Mick Andrews trade mark of the Trials bikes he has helped develop.
Ossa began producing the Mick Andrews Replicas in 1971 and was a very competitive trialsbike, this put Ossa on the top of the trials scene.
In Mick's hands Ossa MAR whent on to win 2 European Championships and 3 Scottish Six Day Trials.
Ossa started to get into troubles and with all the factory politics so the obvious happened, when Mick was approached by Yamaha he did a deal and he went over to Japan.
Yamaha had already built a bike, they had bought an Ossa to get some ideas and so Mick would have been their first choice to develop their new trialsbike, the TY was loosely based on the MAR, and they made many modifications to get just what they wanted.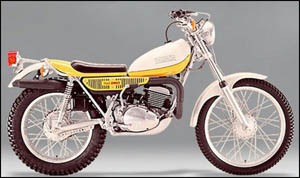 Yamaha TY250A 1973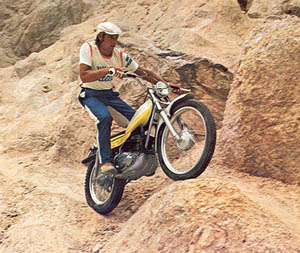 Yamaha TY250A 1973
So with Mick at Yamaha in 1973, he got right into it and finished 2nd in the Scottish with the new twinshock Yamaha TY series (behind Malcolm Rathmel, Bultaco), he then won in 1974 and 1975 on on his works Yamaha.
After Yamaha stopped development of their trialsbikes he can not think of anything other than buy a new OSSA to compete in the British Experts, he briefly helped Ossa to try and develop the old MAR models but they desperately needed a new design to compete.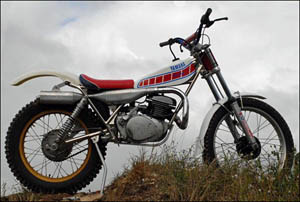 Mick Andrews Yamaha Majesty 250
Mick then moved into partnership with his friend John Shirt to build their Majesty Trialsbike which used a Yamaha engine, but with management problems and strong competition from Spanish brands, it was time to move on.
He then collaborated with several brands to develop their models and in 1979 Mick appeared on the Ossa prototype of the new TR model, which featured a development of Ossa's motocross engine with much slimmer crankcases and a radially finned head. The Yellow Peril looked as though it might be just the bike to put Ossa back on track and when the production version appeared late on in the year things looked good.
But alas in 1979 and 1980 the Spanish companies started suffering from strikes and walkouts and so the trials boom they hoped for never happened for them, and in 1982, the Ossa factory closed down for good. Even the championship Bultaco factory team with its new World Champion, American Bernie Schreiber had to disband in the middle of the season and riders had to find new mounts with different makes.
The reign of the Spanish manufacturers ended.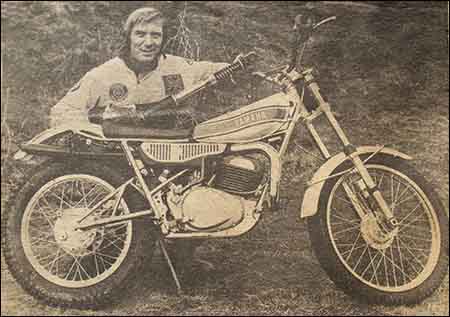 But not the reign of Mick Andrews, he works with Aprilia in 1986 and runs in the SSDT, then back to Yamaha, and with classic / pre65 trials becoming a big sport, Mick's as busy as ever with his worldwide and internationally acclaimed training schools and of coarse he's still riding, developing, Trials Bikes and long may he.
I have written this from what I recall and with the aid of some old press cuttings that I have, so if you know different please put me right.
Regards Will Gittoes
Mick Andrews with his Works Yamaha Cantilever on which he was second at the Hurst Cup Trial.
Mick's holding a spare rear damper, this provides 8 inches of travel compered to the conventional twin shocks system of just 4 inches.