Road&Race > Cust Grand Prix
On-line magazine for classic motorbike sports in the North & South Islands New Zealand.
Send me any Classic Road Racing Kiwis at the Cust Grand Prix and any stories.
NZ Cust Grand Prix, 1936 saw the first NZ Grand Prix held at Cust, the famous road racing circuit near Christchurch.
It became a traditional Easter event when volunteers spent weeks sweeping and oiling the circuit before racing could begin. The event was held annually (excepting the war years) up to 1963, events were run over a 6.1 mile course and 25 laps changing in 1960 to 4.5 miles.
In 1983, 1986, 1989, and 1993 came the return to racing at Cust with a Reunion Meetings on the original Cust circuit, it would be great to see it start up again. If any one's got bags of money and or any ideas contact me because we just cant lose this racing history.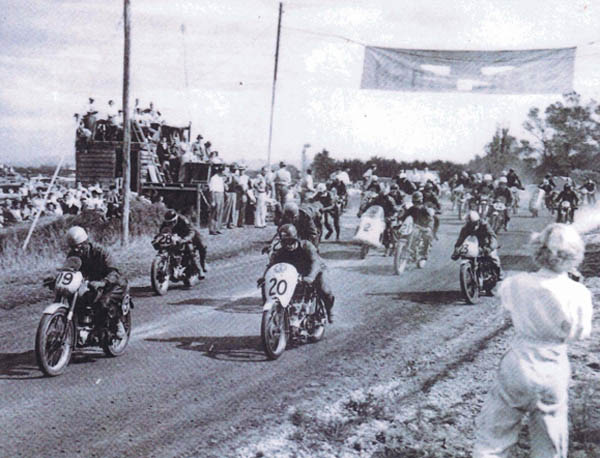 Cust Grand Prix 1956 Lightweights Start.
No 19 P Phillips (Christchurch) BSA 250cc. No 20 TR McCleary (Tom Jnr) (Christchurch) Velocette 249cc. No 2????? No 21 KJ McCleary (Christchurch) Moto-Guzzi 248cc. No 23 M Backhouse (Christchurch) Triumph 250cc. No 28 KJ Davis (Fielding) Triumph 250cc.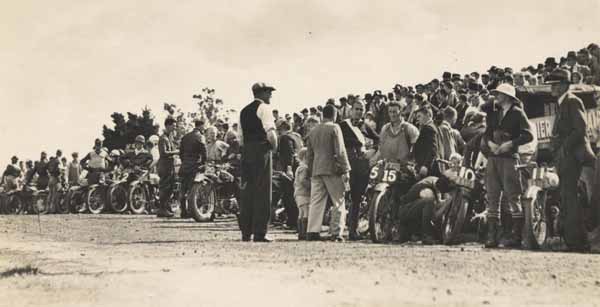 New Zealand Grand Prix Cust 1937.
Last minute briefing just before the start of the race. No 10, Alby Smith (Christchurch) O.K.Supreme 250cc. No 11, O Williams (Christchurch). No 15, T King. No 29 A Richard. No 7, V Browne. No 2, M McClurg - 2nd. No 3, V Etwell.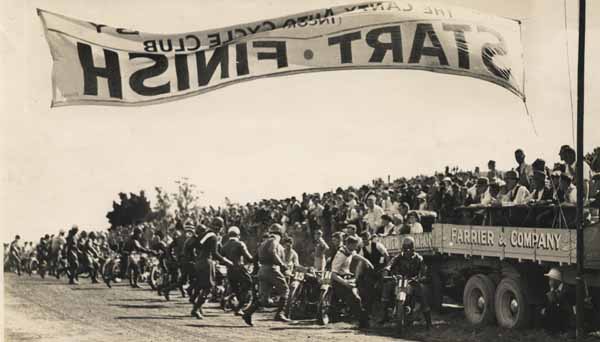 New Zealand Grand Prix Cust Start 1937.
Riders, same as above, the start of 1937 New Zealand Grand Prix Cust.
Thank you to the Smith family fo both photos.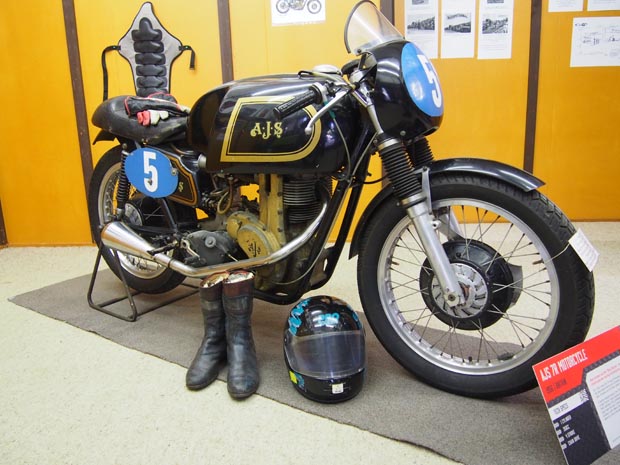 Cust Grand Prix AJS 7R 350cc 1956 - First raced by Jim Swarkrick than by David Burns untill 1963. Bought by George Begg and then raced by Ron Taggart in the classic era at Cust.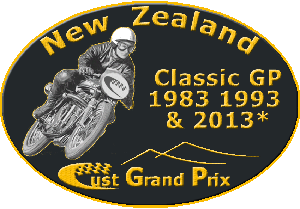 Cust Grand Prix 1958.
Radio recording of the 1958 Cust Grand Prix 500cc race, kindly sent in by David Cook.
The Course for the Cust GP C1956
The course was 6.1 miles in cercumference and was comprised of a twisting and undulating front straight of approximately 2 miles: an uphill S-bend; two hump-backed bridges over which the riders jump at speeds beteen 80 and 90 miles an hour.
A 2 miles, flat back straight with a bridge in the middle and a undulating down hill straight of 1 mile, with a sharp dip on to the front straight. The speed of the riders on this portion of the course is estimated at over 100 miles per hour.In 1960 saw a major change to the course - it war reduced in length to 4.5 miles by using the Gardiners Road to make the course more compact.
In 1961 Forrest Cardon fastest lap was 3.31 = 76.78 mph - average speed, if you walk, drive or ride around the couse and remember these sats it will give you a fair idea how fast these chaps were and on shingle roads.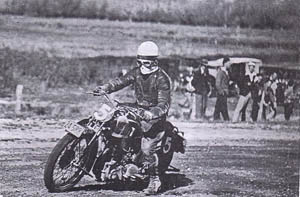 L Albrecht. Manxman Excelsior 349cc on the "Hairpin" bend at the 1937 Cust Grand Prix.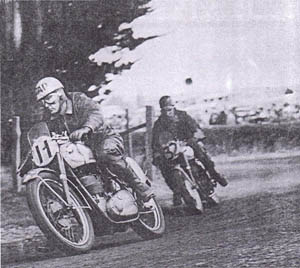 Cust Grand Prix 1958 Don McNeill (11) 350 Gold Star and Ray Anderson (32) 500 Gold Star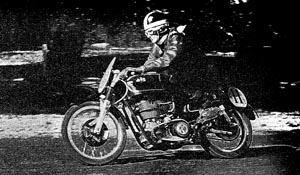 Jim Swarkrick AJS 7R 350cc 1956 at the Cust Grand Prix.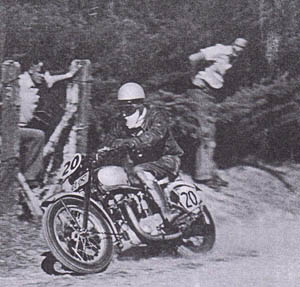 Cust Grand Prix 1948 Syd Jensen on his Triumph Tiger 100. Top of the S Bends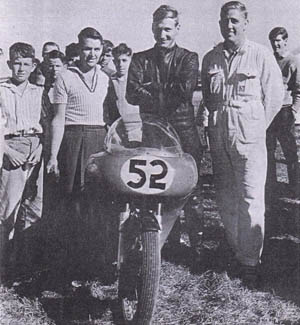 Cust Grand Prix 1961 Forrest Cardon on his Norton Manx 500cc. Senior Winner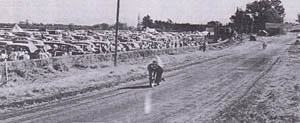 Cust Grand Prix 1961 Forrest Cardon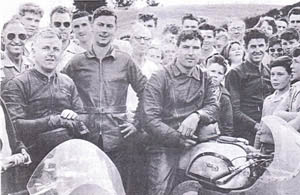 Grand Prix Cust 1960 left to right- T McCleary 2nd Junior- B Benke 3rd Senior- B Newbrook 1st Junior and 1st Senior- S Burt 2nd Senior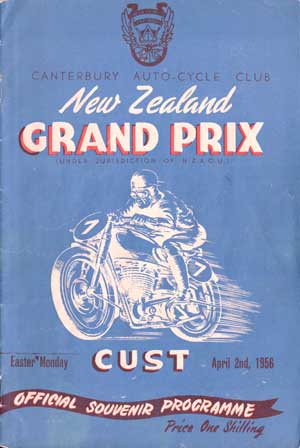 The Programme Cover for the Cust GP C1956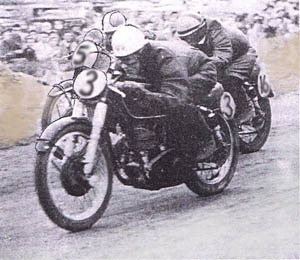 Three AJS 7R's at the 1953 Cust Grand Prix.
NO 3 Syd Jensen. No 5 Tommy McCleary.
No 16 Bill Aislabie.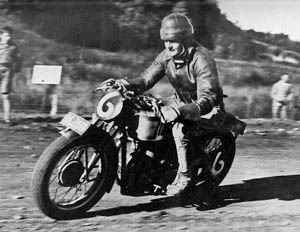 Burt Munro on his Velocette 500MSS, 2nd place N.Z. Grand Prix Cust 1938.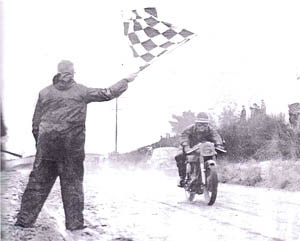 Cust GP 1963 Tommy McCleary
Cust GP 1963 Tommy McCleary wins NZ Grand Prix in the wet, riding a AJS 7R in the last NZGP held at Cust. His farther Tom McCleary (Senior) waves the chequered flag.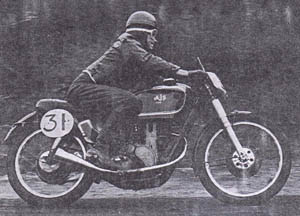 Ron Taggart on his AJS 250R braking for the "Hairpin" bend at the 1956 Cust Grand Prix.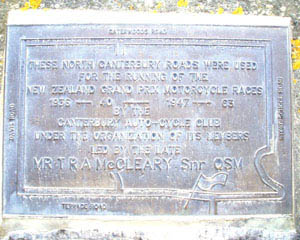 The plauqe at the start finish line at the Cust Grand Prix road racing circuit on Terrace Road Cust New Zealand
If you have any photos of other information please contact me-
William Gittoes
179 Leslies Road, Cust, RD 1, Rangiora 7471
Mob: 027 329 4056
email: custgp@gmail.com