Classic Trials > Recent Trials > North Loburn Classic Trial 2014
CustGP.com for Classic Motorbike Trials / Classic Observed Trials, in New Zealand.
North Loburn Classic Trial, Canterbury, held on March 2nd 2014.
Photographs by Rich Wiley
Great trial up at mount Grey road, perfect weather and just the right amount of water in the creek.... slippery rocks and greasy banks, fanbloodytastic.
Around 34 riders there, so a good turn out. Thanks to Peter for the sizzle.
Cheers, Trev.
Big thanks to Rich Wiley for his photos.
Next trial is the Cust Reunion Classic Trial, Oxford Rd, at Cust River bridge on April 6th.
Cheers Will Gittoes.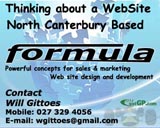 Classic Results
Classic A
1st Dave Chambers 14pts
2nd John Regan 16pts
Classic B
1st Shirley McDonald 26pts
Twin Shock A+
1st Kendall McDonald 11pts
2nd Keith Brown 47pts
3rd Richard Cripps 53pts
Post Classic A
1st Wayne Harper 2pts
2nd Peter Hosking 8pts
3rd Mike Elliott 12pts
4th Brent Downs 13pts
5th Dave Davies 20pts
6th Robert Lovell 21pts
7th Dick Gardner 41pts
Post Classic B
1st Fergus Miles 23pts
Mono Shock A+
N/A
Mono Shock A
1st Simon Jones 9pts
2nd Trev Wiley 15pts
3rd John Philp 16pts
4th Nathan Rickerby 21pts
Mono Shock B
1st Mark Searle 58pts
Collated by John Simons.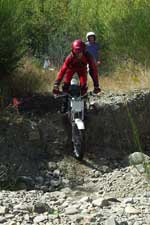 Keith Brown - Yamaha TY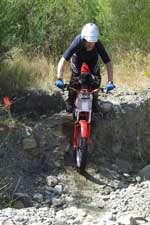 Richard Cripps - Fantic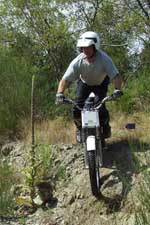 Robert Lovell - Suzuki RL