Road&Race > Road and Race Motorcycle ­ Services CustGP.com for Classic Road&Race Motorbikes, North & South Islands New Zealand.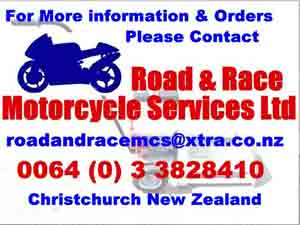 Road and Race Motorcycle ­ Services Ltd - Canterbury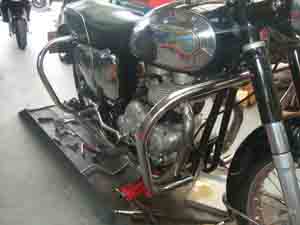 Road & Race Motorcycle Services Workshop AJS
Road and Race Motorcycle Services
Roger Cotterell owner of Road and Race Motorcycle Services Ltd has been in the motorcycle industry for over 26 years. His old business in the UK participated in general motorcycle sales and servicing on European, American and Japanese models.
He specialised in the design and production of bespoke motorcycles for road and racing use, with much success around the world.
Service and Repair from Vintage to Modern Motorcycles.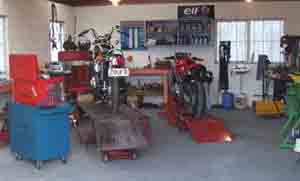 Road & Race Motorcycle Services Workshop
Roger's GRC Super Mono race bikes designed and built, in partnership with his brother, have won the European championships 8 times in the last 9 years! I have years of experience working on British bikes (Norton, Triumph, BSA etc) as well Motoguzzi, Laverda, Ducati, Gilera, Piaggio, BMW, KTM, MZ, Jawa, CZ, Harley Davidson , Buel, Yamaha, Suzuki, Kawasaki, Honda, from general servicing and repairs to full strip and rebuilds.
Roger has been employed in Christchurch since emigrating with his family in 2007. July 2010 sees the birth of his new Business Road & Race Motorcycle Services at 40 Palmers Road, New Brighton, Christchurch where he provides an affordable, quality service to all his customers.
From general servicing to full reconditioning, WOF on site, oil & filter changes, fork oil seals, Steering head bearings, wheel bearings, chain and sprockets kits, batteries, Ducati valve shimming and cam belts in stock, engine building and race tuning work also including , Dynojet kit fitting, electrical & electronic fuel injection fault diagnosis & repair, Carburettor tuning, repair, and setting with on board data logging Air fuel ratio meter.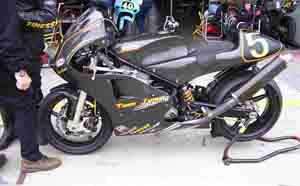 Road & Race Motorcycle Services - Race Bike
Extensive welding experience:-TIG Welding Steel / Stainless Steel /Aluminium - Magnesium alloys, Titainium. Alloy fuel tank repairs or complete manufacture of new tanks, exhaust system manufacture and repair - Hydraulic forming.
So if its broken they can probably repair it. Cylinder rebores and honing from 38mm to 105mm diameter bore size. Electrical & electronic work from repairs and fitting extras to complete wiring loom construction.
Service and repair from vintage to modern motorcycles.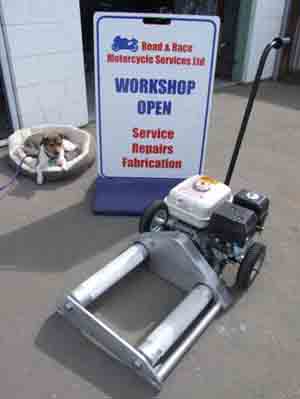 Race Bike Starter System
RACE BIKE STARTING SYSTEM
Now available in New Zealand from Road & Race Motorcycle Services.
The easy, hassle free way to start race bikes.
Put rear wheel in rollers, select gear, hold front brake on, open throttle on the start rollers to spin wheel, engage clutch and the engine will start.
Use in the pits or on the start grid. 6.5 HP GX200 engine, high grade alloy construction.
Simply the best ! $1695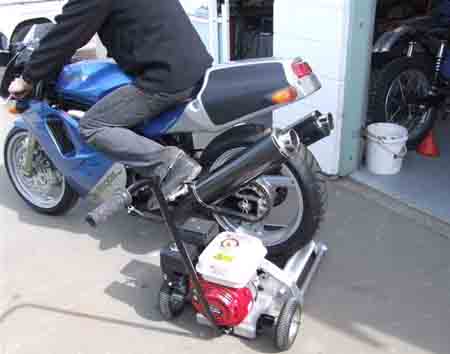 Road & Race Motorcycle Services Race Bike Starter


Roger can be found in his own extensively equipped workshop at:
Road & Race Motorcycle Services Ltd,
40 Palmers Road New Brighton,

Phone: (03) 382 8410

Email: roadandracemcs@xtra.co.nz
Monday to Friday 8am to 5pm where he can guarantee expert workmanship and attention to detail 100% of the time.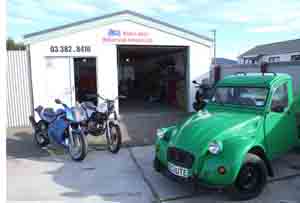 Road & Race Motorcycle Services Ltd 40 Palmers Road New Brighton