Classic Trials > Recent Trials > Three Trials in Three Weeks
CustGP.com for Classic Motorbike Trials / Classic Observed Trials, in New Zealand.
Send me any Classic Trials, results, photos from around New Zealand and I will post them in Recent Trials.
Classic / Twinshock Motorcycle Trials competition, Three Trials in Three Weeks, Classic Trials Reports, Wanganui - Wellington - Manawatu, April / May 2010.
Three Trials in Three Weeks
Photographs and Report by Robert Cochrane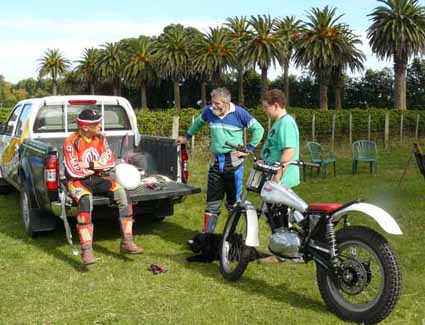 Fred & Evan Carter chat with Alan Duthie at Wanganui
Special thanks to the land owners Quentin Handley, Tim Tibbes and Glen Bullock who have made this all possible, plus those who have come out and ridden and to those who helped set out the sections for the trials, Quentin Handley, Alan Duthie, Tim Tibbes, Jeff Hall, John Lawton.
You have set good challenges and each of the venues was very different with pine forest/farmland in Wanganui, predominant creek bed rocks at Kaitoke, and shingle banks and sand stockpiles in Bulls all proving to be awesome fun.
The idea was to give as many enthusiasts in the Wanganui-Wellington-Manawatu region the chance to come out and have a fun trial and to gain some momentum for the Central Region.
At last count there are 37 classic & twinshock owners in this area I am in contact with but only about 20 bikes running at present, and a number of new riders to the trials sport so I believed it was important to get cracking in my own shed (with mixed results) and start sorting out my own bike more and getting in some practice, and giving others the chance to do so as well.
And just see what would happen. And all the bikes that came out , 21 machines and 18 riders, brilliant.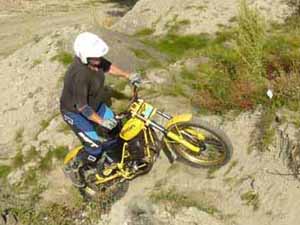 Jeff Hall - Ossa TR80 350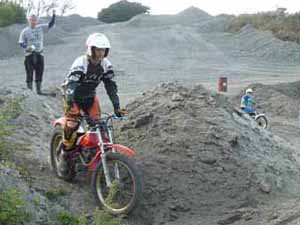 Glen Bullock – Honda TL200
We have trials royalty next year with Mick Andrews arriving for the 'Trentham Classic' in Feb 2011 and 'Wanganui Classic' a week later, plus he will be riding in Hamilton, Kapiti and Christchurch at other events.
So over the three weekends there were 29 entries as listed and Fred Carter, Evan Carter and I did all 3 events but this was not a series and your appearance at one event was an awesome contribution to the success of the concept. I have listened to your feedback and ideas.
A special thanks to Alan Duthie who came up from Christchurch on business for a week and took in the Wanganui and Wellington events. We spent quite a bit of time hanging out in Wanganui and sharing ideas and on the Sunday I took him to visit a trio of friends in Aramoho and we rode a new trials property he described as magic. (We will be heading there in late October).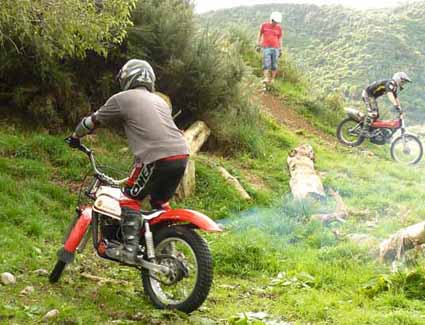 Montesa City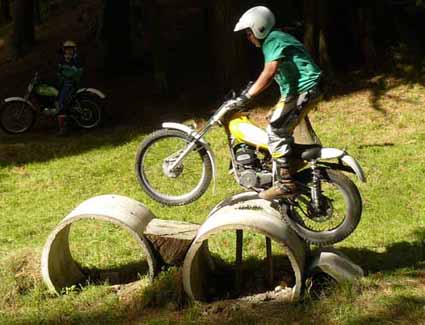 Evan Carter – Yamaha TY175 at Wanganui
At Wanganui Alan was surprised everyone took the A (except me of course) and was impressed with the riding talent with Alan 1st and Karl Brown 2nd. At Kaitoke Alan Duthie lost 6 points, Jeff Hall 8, Tim Tibbes 16.
Some of the sections were harder to start with but once the sand had packed down lots of clear rounds followed from a range of riders. The concrete block was a challenge for all the A riders but some great clears, and saves entertained us all.
Sometimes I wondered if I was on the set of 'On any Sunday' as guys blasted up and down the sand stockpiles, looked just great fun.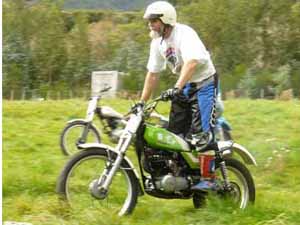 Fred Carter (Mr KT) on the ex Pete McPhee – Kiwi Rider machine
The Future Plans
Last Sunday of each month from May 30th we will have fun trials alternating between Wanganui and Bulls.
Email dates and venue confirmation will follow.
Some of you are riding the Ixion 1st Sunday of month or Manawatu-Orion 3rd Sunday of the month trials and I hope to get along this year, plus up to Hamilton for a round of their Classic & Air-Cooled series.
The Central Classic/Twinshock Trials MA Spring Series
Wanganui last Sunday October, Wellington last Sunday November, Bulls last Sunday January (Central riders must ride one of these events to be eligible for the Mick Andrews events)
Mick Andrews NZ Tour
Upper Hutt last Saturday February – Mick Andrews Event Wanganui 1st Saturday March – Mick Andrews Event – plus Mick Andrews Training School
In the meantime, it's back to the shed for me to resolve the delightful KTs problems.
Robert Cochrane.
e-mail Robert Cochrane