Classic Trials > Recent Trials > Mt Thomas Rd Classic Trial 2012
CustGP.com for Classic Motorbike Trials / Classic Observed Trials, in New Zealand.
Classic Motorbike Trials / Classic Observed Trials competition, Mt Thomas Rd Classic Trial, Kerry Miles Farm, Mt Thomas Rd, off Oxford Rd, Canterbury, held on October 7th 2012.
Photographs by CustGP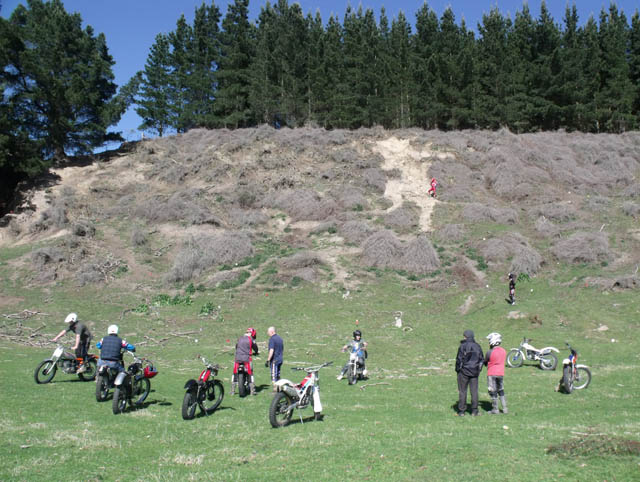 Section 2
Mt Thomas Rd Classic Trials.
We had two minutes' silence for Barry Gurdler who passed away last weekend, Barry ran our Classic Trial group several years ago (before Dick Gardner), and he was an enthusiastic motorcyclist for all his life; he will be greatly misssed.
This is always a great trial venue - and we are normally blessed with good weather, and this year was no exception.
All the sections were up to top standard too, that tested everyone - from the steep climbs, tight tricky turns and then section 9 to cool off in the muddy water race.
Big thanks to Kerry and family for a great venue, also Peter McDonald for always supplying a good BBQ.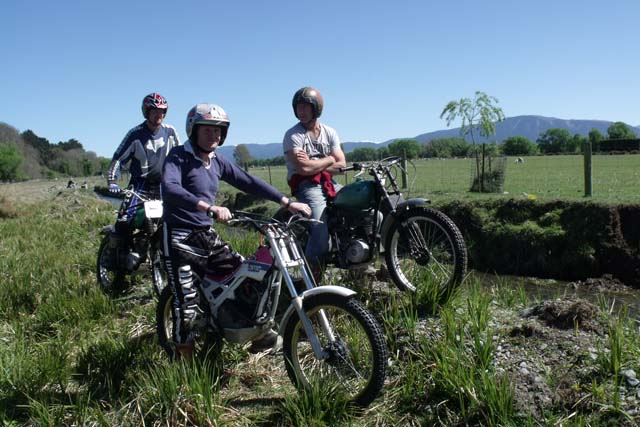 Section 9
Mt Thomas Rd Classic Trials.
Classic Results
Classic A
1st Dave Chambers 14pts
2nd Scott Harrison 23pts
3rd Brian Chambers 66pts
4th Mel Banks 71pts
Classic B
1st Rob Stowell 14pts
2nd Mike Quigley 33pts
3rd Shirley McDonald 49pts
Twin Shock A+
1st Kendall McDonald 15pts
2nd Brent Downes 43pts
3rd Keith Brown 62pts
4th Andy Beale 70pts
Post Classic A
1st Mike Elliott 12pts
2nd Dave Davies 42pts
3rd Robert Lovell 43pts
Post Classic B
1st Fergus Miles 23pts
2nd John Simons 26pts
3rd Mike Smith 44pts
Mono Shock A+
1st Wayne Harper 33pts
-
-
Mono Shock A
1st John Philp 3pts
2nd Nathan Rickerby 34pts
3rd Trev Wiley 36pts
Mono Shock B
1st John Harris 51pts
Collated by John Simons.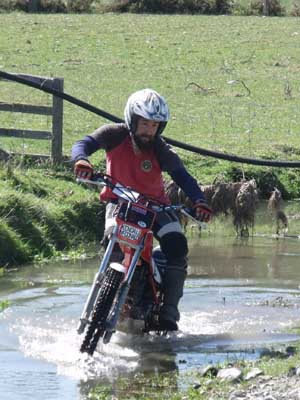 Kendall McDonald - TLR200 Classic Trials

Remember just click on the photos.