Classic Trials > Recent Trials > Little River Classic Trial 2012
CustGP.com for Classic Motorbike Trials / Classic Observed Trials, in New Zealand.
Send me any Classic Trials, results, photos from around New Zealand and I will post them in Recent Trials.
Photographs by Rich Wiley for CustGP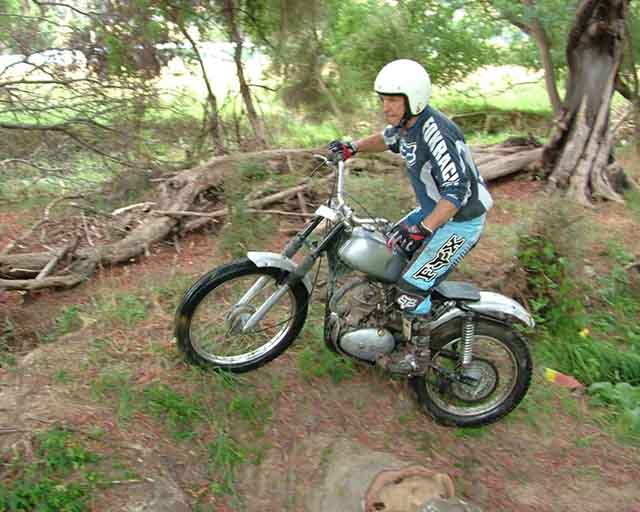 Brian Chambers. Royal Enfield
Little River Classic Trial.
This trial was run by the pioneer club for the guys on modern machinery, with the classics tagging along too. 4 laps of 9 sections in and around the creek which was full of very slippery rocks, with good twisty climbs on the banks and through trees.
Nice to run on a different piece of ground, most of the guys were smiling. John S went well now his knee has settled down after his opp'. Dick G had a very good ride, his knee is shot and he had trouble walking the sections....but rode them very well indeed.
Gary Q was enjoying the sections too, untill a heavy landing on his dodgy leg stuffed his knee up and finished his day, ice packs and beer were all that could be offered to ease the pain.
Thanks Peter for the exellent sausage sizzle, always welcome after a day of feet up and fall offs.
Cheers Trev Wiley.
Another brilliant day of classic motorcycle trials in Canterbury.

If I have spelt your name wrong, or ballsed up completely, let me know, just send me an email.
Thanks.
Will Gittoes
Slide Show Little River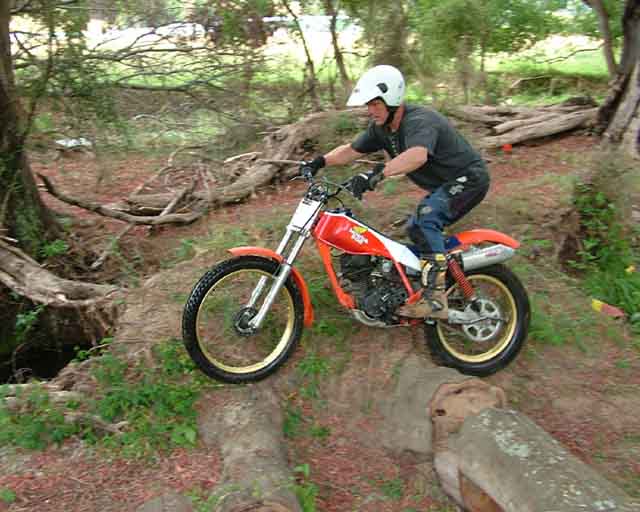 Combined trial with Pioneers Club at Western Valley Little River.
Classic Results
Classic A - 1st Scott Harrison 16pts
2nd Brian Chambers 34pts
Classic B - N/A
Twin Shock A+ - 1st Kendall McDonald 9pts
2nd Alan Mason 39pts
Post Classic A - 1st Graham Slee 0pts
2nd Dick Gardner 12pts
Post Classic B - 1st John Simons 13pts
2nd Peter Barnett 15pts
Mono Shock A+ - 1st Wayne Harper 46pts
Mono Shock A - 1st= Trev Wiley 34pts
1st= Simons Jones 34pts
Mono Shock B - 1st Roy Hallie 10pts
2nd Rick Odering 34pts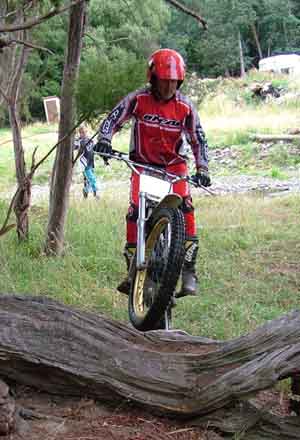 Wayne Harper. Honda RTL 250 Classic Trials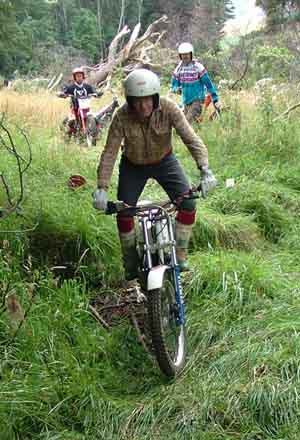 John Philp. Yamaha TY Classic Trials