Classic Trials > WES Trials Parts CustGP.com for Classic Trials and Motorbikes, North & South Islands New Zealand.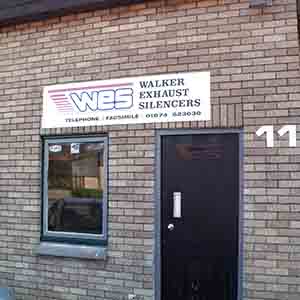 WES Walker Exhaust Silencers Workshop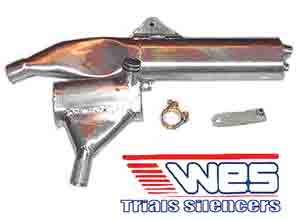 WES Silencer System for the Honda TLR 200 / 250
WES - Walker Exhaust Silencers
Walker Exhaust Silencers or as we all know them as WES are probably the best classic trials exhaust systems in the world. Owned and run by Dick Walker, a fine trials rider in his day, Dick is an engineer so it was an obvious progression to get into something related to trials motorcycles.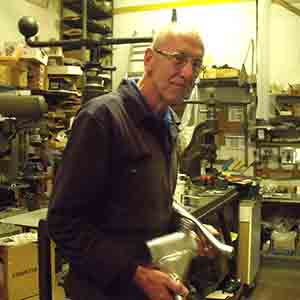 Dick Walker
Dick competed on a Montesa in the early seventies, a good bike - but he knew that well designed exhaust system could make it better - and the rest is history.
On a trip back to the UK recently I called to see Dick at his workshop in Brecon and after talking to him for a while his skill and dedication became obvious.
All his exhausts are not copies of the originals but designed and developed to be far better and, of course, made from alloy they are much lighter too.
The WES are a range of trials alloy silencers for Ossa, Fantic, Montesa, Honda, Suzuki and Yamaha series.
At the time of my visit Dick was working on an all new Tigercub silencer in conjunction with, and exclusively for, Sammy Miller Products. -It will be the best Tigercub silencer ever made-, said Dick.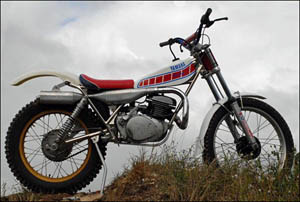 Yamaha Majesty with a WES system
Made to order and subject to a minimum guantity Dick also makes silencers for Fantic, Gas Gas, Beta and Montesa mono shock models.
He also makes some great front fork multi-rate spring kits for 35mm Marzocchi, Ceriani, REH, MP, Bultaco, Ossa, Fantic, Montesa Etc and they include spacer / breather, valves, decals and instructions.
He also has some high quality Honda TLR 250 piston kits, footrest mounting kits and silencer packing No 1 grade are also available.
Dick use to supply the public direct, but spent most of his time on the phone, so you can get WES trials parts from…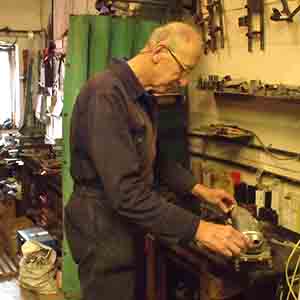 Checking a finished silencer on a jig
WES Main Dealers: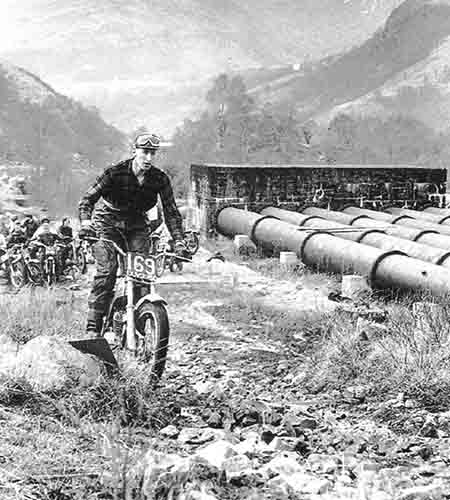 Dick Walker riding Scottish Trial 1970
WES, Unit 11 Ffrwdgrech Industrial Estate, Ffrwdgrech Road,
Brecon, Powys LD3 8LA. UK.


When you fit a WES silencer / exhaust remember that they are designed for competition use - minor modification may be needed for some fitments and in all cases your carb should be re-tuned, as it is when you fit any new exhaust system to a trials-bike.
Regards Will Gittoes
WES Alloy Trials Silencers for Classic Trials Motorcycles:
| | |
| --- | --- |
| Yamaha TY175 | Std Rear |
| Yamaha TY175 | All in One Main |
| Yamaha TY175 | 2 Silencer System |
| Yamaha TY250 | Std Rear |
| Yamaha TY250 | 2 Silencer System |
| Yamaha TY250 Mono | (Go) Rear |
| Yamaha TY250 Mono | (Smooth) Rear |
| Fantic Trial 200 | Rear |
| Fantic Pro 240 / 125 | Rear |
| Fantic Pro 300 | Rear |
| Ossa Mar Mk 1 / 2 | Rear inc Fittings |
| Suzuki RL 250 / 325 | Rear |
| Montesa 247 | Rear |
| Montesa 247C | Rear |
| Montesa 348 | Rear |
| Montesa 349 Mk 1,2,3,4,5 / MH | Rear |
| Honda TLR 200 / 250 | 2 Silencer System inc Fittings |
| | |