Classic Trials > Recent Trials > North Loburn Classic Trial
CustGP.com for Classic Motorbike Trials / Classic Observed Trials, in New Zealand.
Classic Motorbike Trials / Classic Observed Trials competition, North Loburn Classic Trial, Mt Grey Rd, Canterbury, held on March 3rd 2013.
Photographs by Rich Wiley & CustGP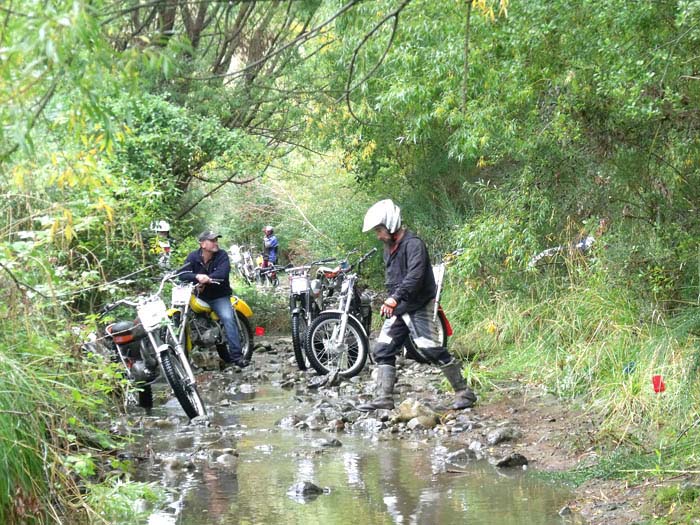 North Loburn
Classic Motorcycle Trial
The course was expertly marked out / designed by Brent Downes and Shirley McDonald.
The rain may have dampened the enthusiasm for some; however the riders that came to the trial had a bloody great day. The rain had stopped and the riders were away at 10.00 but they saw much more water with all 8 sections in the creek, it all worked famously.
So we were all treated to another great day of classic motorcycle trials in Canterbury.
Most Important the BBQ, Big thank-you to Peter McDonald.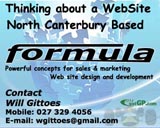 Classic Results
Classic A
1st Scott Harrison 15pts
Classic B
1st Shirley McDonald 22pts
Twin Shock A+
1st Kendall McDonald 11pts
2nd Brent Downes 14pts
3rd Keith Brown 16pts
Post Classic A
1st Wayne Harper 8pts
2nd Mike Elliott 18pts
3rd Dave Davies 23pts
4th Dick Gardner 24pts
Post Classic B
1st John Simons 0pts
2nd Rodney Walls 11pts
3rd Fergus Miles 13pts
4th Gary Quinn 20pts
Mono Shock A+
1st John Regan 14pts
Mono Shock A
1st Simon Jones 19pts
2nd Trev Wiley 20pts
Mono Shock B
N/A
Collated by John Simons.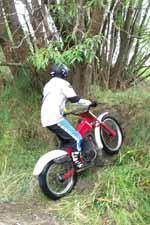 Simon Jones - Fantic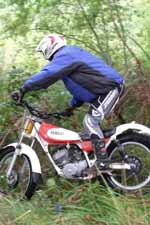 Peter Dunn - TY175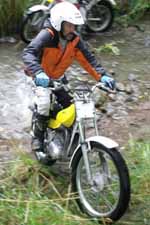 Dave Davies - TY175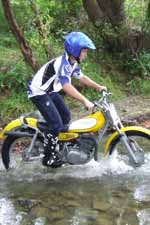 Fergus Miles - TY175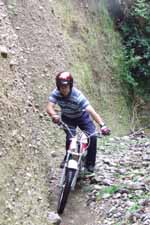 Rodney Walls - TY175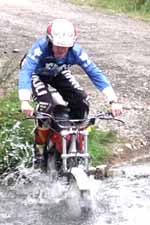 Kerry Miles - Ossa

Remember just click on the photos.